Our unique online card designer gives you complete control over your Photo ID cards and their design.
Simple to use, you can quickly add company logos, photographs, text and much more.
Our copy card button means you can easily duplicate your design for any number of additional cardholders.
Get creative with a blank card or start with one of our free card designs.
Available with no minimum order quantity and fast delivery.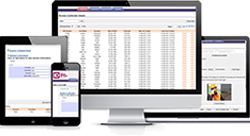 Find out
More
Specifically designed for higher volumes and or repeat ordering.
Benefits include database features, multiple site delivery, fixed pricing, and monthly billing.